Food is the source of energy for people's body, and we need to eat a certain amount of food every day to ensure normal production and life.Rice provides our body with a large amount of sugar, vegetables and fruits provide our body with a large amount of vitamins. A reasonable and balanced diet can ensure the intake of all kinds of nutrients in our body, so as to enhance the immune ability of the body and achieve the effect of ensuring health.
Here is a list of more foods and drinks that are bad for your immune system:
Soda
Processed foods
Foods and drinks high in sugar
Refined carbohydrates
Alcoholic beverages
Fast food
Foods with MSG
Caffeine (if consumed very regularly)
Refined oils
Here are 9 super foods and drinks to build up your resistance:
Sweet potato
Tea
Oats and barley
The yogurt
Beef
Seafood
Chicken soup
The mushroom
Garlic




#1 IMMUNE-BOOSTING ORANGE BANANA SMOOTHIE
This Immune-Boosting Orange Banana Smoothie is so creamy and delicious. With loads of Vitamin C, it's also nourishing and healthy.

Check it

 here
#2 CARROT JUICE RECIPE WITH ORANGE & GINGER
Here's a delicious homemade Carrot Juice Recipe that is full of vitamin C. This recipe uses carrots, oranges, lemon, and ginger for the ultimate healthy fresh juice. You can make this in a juicer or a blender.

Check it

 here
#3 HERBAL HEALING BROTH WITH MEDICINAL MUSHROOMS
An immune boosting, anti-inflammatory mushroom broth recipe packed with healing herbs, plants, spices and flowers. Easy to make, vegan, sodium-free, and nutrient-dense!

Check it

 here
#4 Spicy Golden Milk Recipe (Turmeric Tea) + 20 Health Benefits
A soothing and healing spicy golden milk recipe (turmeric tea) steeped in Ayurvedic tradition with amazing health benefits! Vegan, dairy-free, gluten-free, and refined sugar-free.

Check it

 here
#5 HOMEMADE COLD TONIC
Homemade Cold Tonic is not a replacement for your medicine or a cure for your cold, flu, congestion. It's a therapeutic + aromatic drink that my mom makes whenever we get sore throat, flu, cold, congestion. Homemade Cold Tonic is made with several spices boiled in water, so I think it's the adequate fluid + magical healing powder of spices (hello antioxidants) that helps fight the cough and cold.

Check it

 here
#6 ONE POT VEGETARIAN MINESTRONE SOUP
One of the recipes that longest-living people in Sardinia swear by is Minestrone Bean Soup. It's a classic Italian soup made with fresh seasonal vegetables, legumes and round semolina pasta.

Check it

 here
#7 KALE APPLE GREEN SUPERFOOD SMOOTHIE
Kale Apple Green Superfood Smoothie requires only 5 ingredients and 5 minutes to prepare.  Even the kids will love this delectable smoothie.
Every sip of this smoothie is sooo good for you.  A yummy dose of antioxidants, anti Inflammatory, gently detoxifying and nourishing all at once !!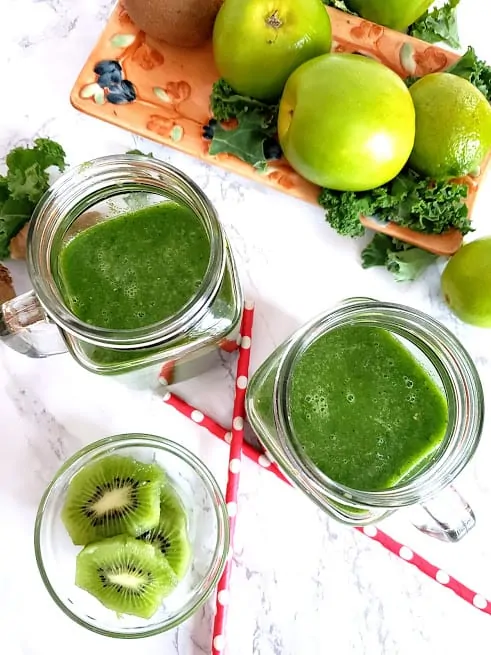 Check it

 

here
#8 EASY INSTANT POT CHICKEN NOODLE SOUP [GLUTEN FREE] 
This Instant Pot Chicken Noodle Soup is packed with feel better ingredients like ginger, turmeric, garlic, and comforting gluten-free noodles. Kid friendly and the perfect soup to eat when you are sick (or trying to avoid getting sick).

Check it

 

here
#9 Ginger Turmeric Lemon Tea
This easy turmeric tea recipe is made with simple and fresh ingredients. Ginger, honey and lemon combine with spices to create an anti-inflammatory hot drink that helps to boost your immune system. Perfect if you are fighting a cold or want to soothe a sore throat. Full of health benefits and great for a detox. Ready to drink in less than 5 minutes.

Check it

 

here
#10 Easy Beet Smoothie – A Cold Busting Drink
This easy beet smoothie is packed full of vitamin C for a cold busting and tasty drink. Just 5 minutes to make and a handful of ingredients to help boost your immune system.  A healthy vegan smoothie packed full of nutrients with no added sugar.

Check it

 

here
#11 GOLDEN MILK | HALDI DOODH
Whether you call it Golden Milk, Haldi Doodh or Turmeric Milk, this anti-inflammatory rich drink is just perfect when you are feeling under the weather or looking for a comforting and warming drink!

Check it

 

here
#12 Lacto-Fermented Garlic
Learn how to make lacto fermented garlic that is an easy and delicious way to add probiotics to your diet. Follow me as I take you step-by-step to make this delicious and easy recipe.

Check it

 

here
#13 ORANGE TURMERIC BOOSTER SHOT
The cold or flu season is here. To give your immune system an extra boost and to ease inflammation, try this warm turmeric drink recipe: Orange Turmeric Booster Shot.

Check it

 

here
#14 Healing Quinoa Vegetable Soup
I wanted to create a powerful soup that would not only soothe the soul, but also ease any inflammation happening in our bods. I was a little worried about certain flavors not working well—after all, I typically leave ginger for my East + Southeast Asian soups—but I was over the moon when I added it to this pot and learned that it worked.
Along with ginger, the turmeric, tomatoes, spinach, garlic, rosemary, and quinoa in this soup work as anti-inflammatories to create a healing soup that is appetizing and substantial.
Check it here
#15 HOMEMADE CHICKEN NOODLE SOUP RECIPE
Few things are more comforting than a big pot of Homemade Chicken Noodle Soup. Made with homemade chicken broth and filled with healthy vegetables, shredded chicken, and loads of noodles, it's easy to enjoy this Chicken Noodle Soup Recipe all winter long!

Check it

 

here